Understanding Waivers and Cancellation of Removal
Aug. 16, 2021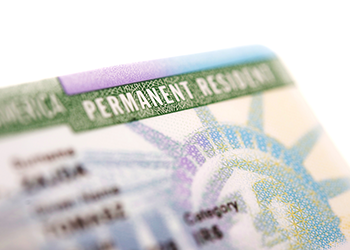 The federal government continues to work to reform and improve the U.S. immigration system. Regardless, any undocumented immigrant living in the country may face the possibility of removal based on federal government orders. During the fiscal year of 2019, approximately 359,885 undocumented immigrants were removed from the United States. Thankfully, non-U.S citizens and lawful permanent residents (green card holders), that have lived in the United States but are now facing the likelihood of deportation, may apply for waivers or cancellation of removal.
Attorney Sabir has devoted his career to providing outstanding legal services and assisting clients with their immigration issues, including deportation and removal matters. As an experienced Pennsylvania immigration law attorney, he is available to evaluate your unique situation and explore your possible legal options. Attorney Sabir will fight vigorously to protect your legal rights and outline an effective legal strategy that will help terminate the removal proceedings and ensure your continued stay in the United States. He is proud to serve clients in Upper Darby, Pennsylvania, and throughout the greater Philadelphia area.
What is a 212(c) Waiver?
Through INA Section 212(c) Waiver, certain lawful permanent residents (LPRs) or green card holders placed in the removal proceedings due to a criminal conviction are able to avoid deportation. According to Section 212(c) of the Immigration and Nationality Act (INA):
"Aliens lawfully admitted for permanent residence who temporarily proceed abroad voluntarily and not under an order of deportation, and who are returning to a lawful unrelinquished domicile of seven consecutive years, may be admitted in the discretion of the Attorney General."
Who Qualifies for a Waiver?
Under Immigration and Nationality Act Section 212(c), in order to be eligible for a waiver, the lawful permanent resident must have been living legally in the United States for at least seven years.
What is a Cancellation of Removal?
Cancellation of Removal is an immigration benefit or lifeline available to immigrants facing deportation. Through cancellation of removal, an immigrant may apply to the Immigration Judge to:
Seek relief from removal;

Terminate the removal proceedings; and

Change their status from a deportable alien to a person legally admitted into the United States for permanent residence.
If you're a non-U.S citizen or foreign national who has been living in the county for many years, you may be granted cancellation of removal or a waiver of inadmissibility if you meet the eligibility requirements.
Who Qualifies for a Cancellation of Removal?
Both lawful permanent residents and non-permanent residents qualify for cancellation of removal. However, the eligibility conditions are different depending on your immigration status.
Permanent Resident
Under 8 U.S. Code 1229b(a), the Attorney General may cancel removal in the case of an alien who is deportable or inadmissible to the United States if such a person:
Has been an alien lawfully admitted for permanent residence for not less than five years

Has continuously lived in the country for seven years after having been admitted in any status

Has not been convicted of any aggravated felony
Non-Permanent Resident
Under 8 U.S. Code 1229b(b)(1), the Attorney General may cancel the removal of, and adjust to the status of an alien lawfully admitted for permanent residence, an alien who is inadmissible or deportable from the United States, if they:
Have been physically present in the United States continuously for at least ten years immediately preceding the date of such application

Have been a person of good moral character during this period

Have a clean criminal history or have not been convicted of a criminal offense

Show that removal would result in Exceptional and Unusual Hardship to their spouse, parent, or child, who is a U.S. citizen or lawful permanent resident
Cancellation Hearing
The Department of Homeland Security (DHS) will commence your removal proceeding through U.S. Immigration and Customs Enforcement (ICE). You must have received a Notice to Appear (NTA) before an immigration judge containing the following information:
The nature of the proceedings;

The alleged grounds for removal;

Your right to hire an attorney; and

The consequences of failing to appear at scheduled hearings.
The cancellation hearing will be held before the Immigration Judges who will review your documents and the evidence to determine:
Whether your actions or lack of immigration status make you removable from the United States, or

Whether you merit any legal or discretionary relief.
An experienced attorney can help prepare the required documentation and present your case diligently before the Immigration Judges to maximize your chances of the best possible outcome.
Work With a Skilled Attorney
The removal or deportation process involves several complexities, and the stakes are often high. Having the right legal representation is crucial to protect your constitutional rights and develop an effective defense strategy for your case. An experienced immigration law attorney can evaluate your unique situation and determine the best course of action.
Sabir Law Group is committed to providing comprehensive legal guidance and reliable representation to clients in their removal proceedings or cancellation hearing. As your legal counsel, he can review your unique situation and present your available legal options. Attorney Sabir can help determine your eligibility for cancellation of removal, prepare the necessary documentation, and present your case meticulously during the cancellation of removal hearing. Having him on your side can improve your chances of a favorable outcome in your deportation case.
Contact Sabir Law Group today to schedule a one-on-one case assessment with an experienced waivers and cancellation of removal attorney. Attorney Sabir can offer you the detailed legal guidance, strong advocacy, and reliable representation you need. He proudly serves clients in Upper Darby, Pennsylvania, and throughout the greater Philadelphia area.