Appealing a Naturalization Denial
Sept. 28, 2021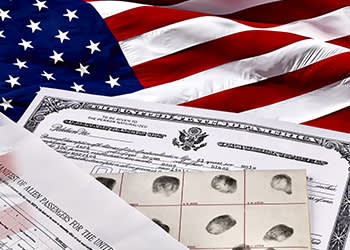 For someone who already holds a green card, applying for naturalization is the final step in a long journey to becoming a U.S. citizen. Unfortunately, it can feel demoralizing to have your application for naturalization denied. Of the approximately 860,000 green card holders in the United States that apply for citizenship by naturalization annually, only about 23% are approved by the United States Citizenship and Immigration Services (USCIS). If your application for naturalization was denied, you are within your rights to appeal the denial.
Attorney Sabir has devoted his career to offering outstanding legal services and knowledgeable guidance to clients in matters related to naturalization and citizenship. As an experienced Pennsylvania immigration law attorney, he is available to discuss your situation, investigate why your naturalization application was denied, and explore your possible legal options to appeal the denial. Using his extensive legal understanding, he can fight diligently to protect your rights, represent you during the hearing, and attempt to get the denial overturned. Sabir Law Group is proud to serve clients in Upper Darby, Pennsylvania, and throughout the greater Philadelphia area.
Common Reasons for Denial
Naturalization can be described as the process through which U.S. citizenship is granted to a green card holder (lawful permanent resident) upon meeting the necessary requirements. Filing a Form N-400, Application for Naturalization, involves a lot of complex procedures. This usually makes naturalization denials fairly common. Below are some common reasons for a citizenship application denial:
Failing the English or civics test

Having a fraudulent green card

Failing the U.S. history and government test

Having a criminal history

Failing to register for selective service

Failure to pay your taxes

Failure to meet physical presence and continuous residence requirements

Lying or providing false information on your citizenship application

Deliberate failure to support dependents

Lying to USCIS or being involved in fraud

Owing past-due taxes or child support

Performing poorly on the U.S. citizenship interview

Having a pending divorce application
Receiving a Denial
If your application isn't approved, the USCIS must deny the naturalization application within 120 days of the initial interview. You will receive a written notice stating the exact reasons why your citizenship application was denied.
If the USCIS denied your application because you failed the English or civics tests, you may be eligible to retake both tests. The written notice regarding the denial will inform you that you have the right to accept the denial or request a hearing in front of an immigration officer.
The Appeal Process
Here are the steps involved in the naturalization appeal process:
File Form N-366: Your lawyer will file Form N-366, Request for a Hearing on a Decision in Naturalization, on your behalf. You will have to pay the processing fee.
Submit Form G-28: Upon filing Form N-366, your attorney must submit Form G-28, Notice of Entry of Appearance as Attorney or Accredited Representative.
Schedule A Review Hearing: After receiving your request, the USCIS will schedule a review hearing within the next 180 days.
De Novo Review: This involves a new and full review of your naturalization application. An immigration officer, different from the person who conducted the initial review, will conduct a "de novo" review.
Attend an Appeal Hearing: During the appeal hearing, your attorney can present any new evidence, including written statements and briefs, relevant to your citizenship application. The purpose of the additional evidence is to convince the presiding judge to overturn the previous denial.
Alternatives to Appeal
If your naturalization application was denied and you do not intend to appeal the denial, here are some other alternatives to appeal:
File a new naturalization application

File a motion to reopen

File a motion to reconsider
Getting the Experienced Legal Guidance You Need
After going through the complexities of the U.S. immigration process, it can be disheartening to receive the news that your naturalization application was denied. Regardless, don't despair. An experienced naturalization attorney can help explore your available options and determine whether to appeal the denial.
Attorney Sabir has the experience and resources to assist, support, and protect the rights of individuals whose applications for naturalization were denied. As your legal counsel, he can review the surrounding circumstances of your situation, determine whether the appeal process is right for you, and enlighten you about alternative options.
Additionally, he can help you file your appeal forms, develop a solid argument for your naturalization appeal, gather evidence, and represent you in every phase of the hearing. Attorney Sabir can present your case diligently and attempt to convince the judge to overturn the denial. Having him on your side can improve your chances of getting your naturalization application granted.
If your application for citizenship was denied and you want to discuss your options, contact Sabir Law Group today to schedule a simple consultation with a knowledgeable immigration attorney. Attorney Sabir can offer you the experienced legal guidance and brilliant advocacy you need in your appeal. The firm proudly serves clients in Upper Darby, Pennsylvania, and throughout the greater Philadelphia area.