How Can I Help My Family Member Become a Permanent Resident?
Oct. 14, 2021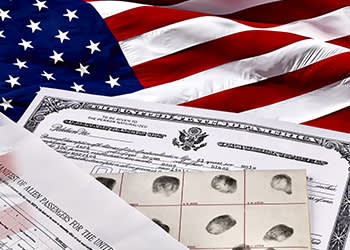 In 2020, according to the Migration Policy Institute (MPI), 508,291 persons born outside the United States were living in Pennsylvania. The group includes everyone from those who have been naturalized to those who have just arrived, whether with a visa or without.
Many of these foreign-born individuals – those who have become U.S. citizens or obtained a lawful permanent resident (LPR) status with a green card – are now eligible to petition for relatives still living abroad to immigrate and obtain their own green cards.
Depending on the petitioning person's status – citizen or LPR – and the classification into which the foreign-residing national falls, the immigration process can be swift, or it could take years after being put on a quota-based waiting list.
If you're a U.S. citizen, foreign-born or native, or an immigrant with a green card who wishes to sponsor a relative living abroad, contact Sabir Law Group. Attorney Sabir, an immigrant himself who has been naturalized, serves clients in Upper Darby, Pennsylvania, and throughout the Philadelphia area.
Petition to Sponsor a Relative
Which relatives you can sponsor and how long they have to wait to immigrate depends on the status of the petitioner – U.S. citizen or green card holder – and sometimes on the age of the sponsor.
A person with citizenship status has the most options and shortest waiting periods for those he or she sponsors. A U.S. citizen can petition for a spouse and children, married or unmarried. If the U.S. citizen is 21 years of age or older, he or she can also sponsor parents and siblings.
As a lawful permanent resident, you can petition for a spouse, unmarried children under 21 years of age, and unmarried sons or daughters 21 years of age or older. Your son or daughter's children may be included in the petition.
In either case, the first step is to file Form I-130, Petition for Alien Relative, with U.S. Citizenship and Immigration Services (USCIS). You have to file a separate I-130 for each relative you're petitioning for. The form will establish the petitioner's relationship with the relative. The I-130 does not provide for a visa or lead to LPR status by itself.
If the qualifying relative is living legally in the United States, you can sometimes file a Form I-485, Application to Register Permanent Resident or Adjust Status, at the same time. If the relative is living abroad, once the I-130 is approved and a quota spot becomes available (if applicable – see next section), the Department of State will contact him or her to apply for an immigrant visa.
Once your relative arrives in the U.S., you can apply for a green card and LPR status for them by filing Form I-185.
Waiting Periods
The Immigration and Nationality Act (INA) gives preference to immediate family members of U.S. citizens – spouses, unmarried children under 21, and parents. There is no waiting list for this group. For other relatives, there are quotas based on where they reside. Countries with high visa demands, such as China, India, the Philippines, and others, can have lengthy waiting lists.
For petitioners with LPR status, the relative being sponsored is subject to what are called preference categories. Preference category immigrants do face quotas and subsequent waiting periods based on annual caps set by the USCIS, again by country of origin. The waiting period can often be years depending on the number of applications.
Am I Financially Responsible for My Relative?
Yes. Under the law, each person who immigrates based on a relative's petition must have a financial sponsor. After the Form I-130 is approved and your relative is granted permission to immigrate, you as the petitioner should file Form I-864, Affidavit of Support. If you cannot make this commitment yourself, then you must find someone willing and able to do so.
Hiring an Experienced Immigration Attorney
It may sound simple: All you have to do is fill out a couple of forms and pay the application fees, but petitioning for a relative involves layers of documentation to be submitted along with the relevant forms. If one piece is missing, USCIS can throw everything back at you, and you basically have to start the process all over again.
It's best to seek the advice, counsel, and hands-on help of an experienced immigration attorney. Attorney Sabir, as a naturalized U.S. citizen, has gone through all the administrative and legal hoops himself, and since then, has helped countless others navigate the immigration system.
If you're seeking to petition for a relative so they can ultimately obtain LPR status, and you're in or around Upper Darby, Pennsylvania, contact Sabir Law Group immediately. Attorney Sabir speaks six languages and is ready to help you reunite with your family members.